Hello guys, it's so good to have you on my blog. I want to believe, you already know what PayPal is all about, at least that is one reason why you opened and are reading this post. Hence, I'm going to skip all those long speeches about PayPal and move straight to the point.
Close to 4 years in which PayPal extends its service to Nigeria and 9 other countries. Anyone in Nigeria can actually open a PayPal Account with Nigeria IP address, but there are certain limitations in place and up till this moment, PayPal is not yet allowed Nigerian to have full access to their services. You can only use your Nigeria PayPal account to pay bills. In other words, you can only use it to spend online via your debit card. You can't use a Nigeria PayPal Account to collect payment from online platforms or to receive earnings from your clients or to receive money from your friends, families, and loved ones abroad.
But there is always a way out…
Some of us that are selling and buying PayPal funds actually have our PayPal accounts set up in other country names. The majority of such countries are the USA, UK, UAE, and South Africa. If you have a duly opened PayPal Account from any of this country, then you will be able to make payment with your PayPal Account and as well receive earnings with it from any websites in the world or even as a freelancer on popular websites such as Fiverr.
One major challenge you might have when using any of this country's PayPal Account is that you can easily get your funds seized and at the end, you might lose it. Even if it's as small as $20 or as huge as $20,000. You lose all, even after limiting you to over 180days.
I must tell you this, all the so-called 'popular' solutions I tried in the past just to have a well functioning PayPal Account have failed me completely. Despite the fact that I'm using strong VPN and I verified my USA PayPal account with a USA mobile number that I got from Textnow along with my active Payoneer US virtual Bank Account and Master Card, the USA PayPal Account that I'm using for the past 2 years through the method posted here, is now foiled and my funds on it were seized.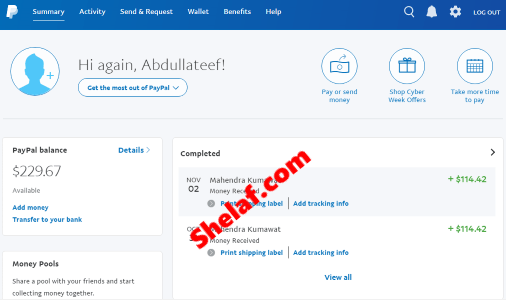 I got $229.67 in it. Suddenly, when trying to use the fund, PayPal is asking me to confirm my identity and I tried to use "textnow" number which I was previously used to verify the account, but PayPal is only saying "This number doesn't appear to be registered in your name. Please try again". This problem occurred when I mistakenly logged in to my USA PayPal account with my second laptop in which it was not the one I used to open the account. I have tried all the tricks I know to bypass the limitation, but PayPal still pinned down my hard-earned.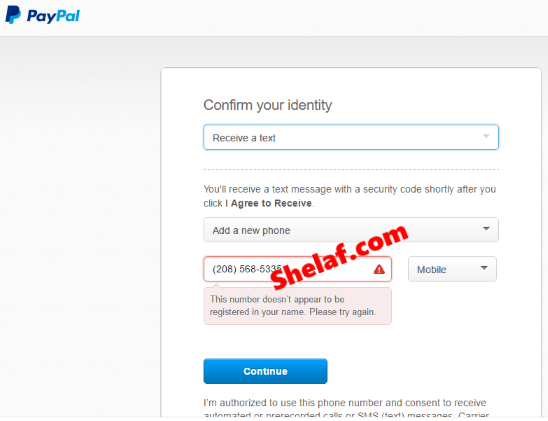 No matter how you are smart, one thing I can guarantee you is that the account will get limited and later on closed down your account simply because it was not properly created and not carefully maintained. The next question that may come to your mind now should be, How then can I get an unthreatened and verified PayPal Account?
South Africa PayPal account is the way out now. The method I'm going to share with you today is a new and very simple method, but right now, it's very scarce to get it for free on the internet. You don't even need any VPN to access your PayPal Account, you can easily verify your account with your Nigeria debit (ATM) card and the most interesting part, you are good to go with your Nigeria IP Address! I've been using my own South Africa PayPal Account with Nigeria IP address close to 4 months now without any problem.
I can easily send and receive cash from anyone and anywhere.
I can easily pay for products and services on sites that accept PayPal.
I can easily collect my earnings from Fiverr and other freelance websites.
I can easily key into any foreign websites like Valuedvoice, content.ad, SEO clerk and other online programs to collect earnings easily.
I can easily access my PayPal account with my regular Nigeria IP anytime, any day and anywhere.
Now, I have rest of mind operating my fully functioning verified PayPal Account.
Everyone knows that getting jobs online or getting customers to hire you is very difficult. It takes lots of effort to do promotions before getting sales. Why then should get paid to be difficult? I love to see everyone have a faster way to online success and that's why I'm sharing this new method of open a verified PayPal Account with you, it is 100% total freedom while logging into your account.
Needed Materials
1. A valid old or new email address
2. Nigeria Naira or Dollar Master Card 3. Valid Nigeria Identity Card – National ID card or Driver's License or Passport
4. Your Real Nigeria Address, I mean the one on your ID Card.
5. VPN does not need, good to go with Nigeria IP address
It's time to avoid all shortcuts! Big kudos to one of our devoted fans Emmanuel Ekwerekwu. He is the one shed some light on this method and he has been using his own South Africa verified PayPal account close to a year now with Nigeria IP Address without any issues.
Follow these simple steps below to open a South Africa verified PayPal account:
Visit Paypal.com and click on the Sign-Up link and create an account there. Fill in your detail and don't forget to choose South Africa as your Country or region. Fill the rest of the form, under National ID, choose your preferred one and input the ID number. Also, don't forget to use the same names you used on your National ID Card.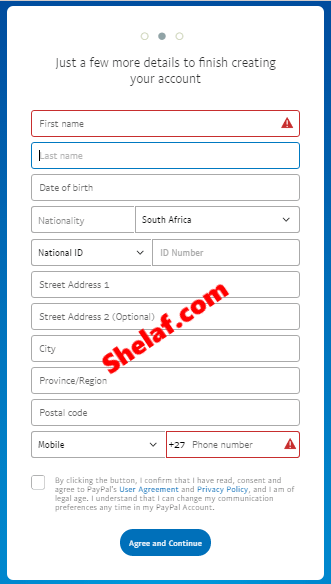 I used my National ID Number and it was accepted, see the screenshot below for the proof;
Use the address on your National ID Card, for the phone number and Zip code, search for any South Africa phone number and Zip code through the internet to use for your detail. On completion, a verification link will be emailed to you. Click on the 'Confirm Email Address' button on the email sent to you to begin the activation of your PayPal account.
Verified PayPal account provides comfort and token of credibility to your employer who is going to pay you in the near future. There are two ways through which you can link and verify your South Africa PayPal account and they are:
By adding your Identity Card.
By adding your Credit/Debit Card to PayPal.
I used my ALAT Debit Card (Master Card collected from Wema Bank) to verify my South Africa PayPal.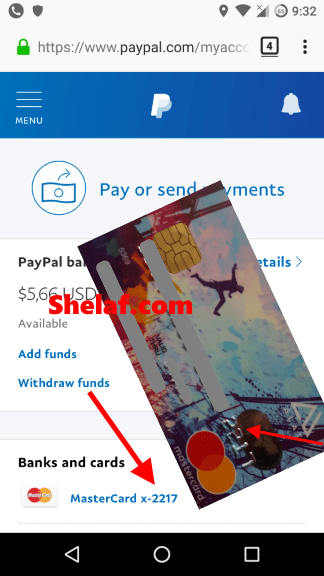 How to Link Your Naira or Dollar Debit Cards to Your South Africa PayPal Account
1. Make sure that you have some funds in your Debit Card, at least N800 or $2.
2. Log in to your PayPal account and then to the account profile (Remember that you don't need any VPN to log in).
3. From the drop-down menu, choose Link a card
4. Type the sixteen digits of your card numbers
5. Enter the expiry date of the card in the next text box
6. Type your CVV (CSC) number. This 3-digit number on the back of your card
7. You should see your billing address there automatically and if not, enter it.
8. Click Save and you are done.
9. Once the Master card added, your PayPal will be verified and you can start using it to receive and make payments online.
Note: Do not use the debit card or email address that was already associated with another PayPal account. Also, PayPal will charge the card N381.08 to make sure it's your PayPal, but don't worry your money will refund within 24 hours.

That is all! Now, your account is fully ready for operation. You can start receiving money from your survey companies, your affiliate companies, and others.
You are free to access your South Africa PayPal account with regular Nigeria IP anytime, any day and anywhere. The only restriction here is that any funds you have received into your South Africa PayPal account can not be sent to other South Africa PayPal users, but you can send it to any other countries PayPal users.
I believe you enjoyed reading this post. Please share this information with friends and everyone around you using the share buttons.