Except you have been living under the rock for a long time, you must've come across a megaphone at one point or the other. They are very important for those who need extreme audibility to pass a message across. If you ever have a need for one and you are confused about the option to go for, here is our list of 7 Best Megaphones.
1. Califone PA-15 Handheld Megaphone with 1000 ft Range:
This megaphone is home to a vibrant audible range of up to 1000 ft and it works on 6 D-sized batteries.
It possesses a very rough construction, making it superb for all kinds of weather conditions. It also comes with volume controls for both voice and siren alert. Product Dimensions are 14.5 x 9 x 9 inches and its shipping weight is 5.1 pounds
2. Califone PA20R 3D Ready Short Throw Megaphone with 1000 ft Range: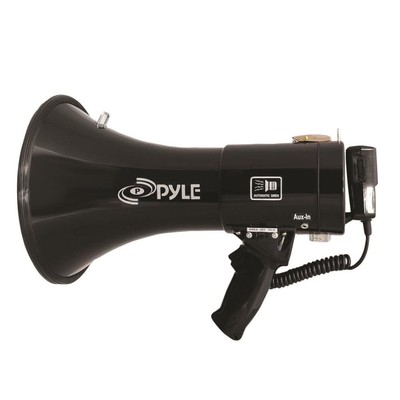 This megaphone will broadcast whatever you have lined up effectively. It comes with shoulder strap clips and it has rugged ABS plastic to ensure it lasts for a very long time.
The Califone PA20R 3D Ready Short Throw megaphone can even record up to a ten-sec message for playback by pushing a button. It possesses a detachable mic as well for your utmost comfort and convenience. This megaphone is very useful on a football field or during emergencies.
3. Waterproof Megaphone Bullhorn and Flashlight – Portable Compact 40W PA:
This megaphone is home to a very effective voice amplifier, wireless audio capability, and a functional sound device.
It comes with a rotary control switch for adjustable volume control settings and it is filled with LED lights to aid crowd control and traffic direction when it is dark. Its design is very compact and it can resist moisture superbly.
4. Califone PA 8 Portable Megaphone with 500 Foot Range:
This megaphone has a brilliant range of up to 500 ft and operates on 4 C-batteries while possessing a strap that is suitable for all kinds of weather conditions. It comes with volume controls for both voice and whistle alert and a shipping weight of 3 pounds.
5. Pyle Handheld Portable Compact Bullhorn Megaphone Speaker with Built-in Alarm Siren:
It comes with an audio projection range of more than 800 yards and a sound level of 98 decibels which will definitely grab the attention of your audience. With its portable battery-operated design, cheerleaders and public announcers will fancy it. To make it more appealing, it also has a voice changing feature that will make you sound like a baby, an old person, or a robot.
6. Califone PA25R 25 W Megaphone with 1250 ft Range:
Still on the topic of best megaphones to buy. The Califone comes With an audible range of 1250, your message will surely be heard. Some of its features are volume control, power/record indicators, speak/record/play buttons, and so on. It is home to a record option that allows owners to record up to a 10-sec message that can be played back by the push of a button. Expect a detachable mic too to make things more comfortable for you.
7. Califone PA-15 Megaphone with Built-In Siren:
Some of its features include 15 Watts RMS, 20 Watts Maximum Power Output, 1000′ Range; 7.5″ Speaker, 6 x D-cell Battery, Normal 6 hrs, Continuous: 3 hrs. Battery Life, Length 13″ (330mm), and so on. If these amazing features do not convince you, I don't know what will.
More Information On Megaphone:
A megaphone, speaking-trumpet, bullhorn, blow the horn, or loudhailer is usually a portable or hand-held, the cone-shaped acoustic horn used to amplify a person's voice or other sounds and direct it in a given direction.
The sound is introduced into the narrow end of the megaphone, by holding it up to the face and speaking into it, and the sound waves radiate out the wide end.
A megaphone increases the volume of sound by increasing the acoustic impedance seen by the vocal cords, matching the impedance of the vocal cords to the air, so that more sound power is radiated.
It also serves to direct the sound waves in the direction the horn is pointing. It somewhat distorts the sound of the voice because the frequency response of the megaphone is greater at higher sound frequencies.
The initial inventor of the speaking trumpet is a subject of historical controversy. There have been references to speakers in Ancient Greece (5th Century B.C.) wearing masks with cones protruding from the mouth in order to amplify their voices in theatres.
Hellenic architects may have also consciously utilized acoustic physics in their design of theatre amphitheaters.
Portable megaphones are widely used for crowd management and mass communication. When needing to communicate information or directions to a large crowd of people in one place, an electric megaphone is valuable when other public address systems are not present.
There you have it – a comprehensive list of 7 of the best megaphones. If you have any personal favorites or other recommendations, feel free to drop them in the comment section below.