Too bad most OPay users never saw this coming, they presume N10 transaction fee will continue forever, but unfortunately, OPay has introduced a 1% transaction fee on bank transfer services.
Previously, the app charged N10 when users made transactions from their OPay wallets to regular bank accounts. This fee will no longer apply; instead, the app will now charge N45 for the first transaction a user makes in a day. Subsequent transactions will incur a flat 1% processing fee.
Initially it was unannounced 2% transaction fee as at Tuesday morning, but the company was forced to return it to 1% transaction fee when users were reacting negatively online.
Meaning if you are going to transfer N100,000 from the app to any bank account, instead of paying N10 transaction fee, you'll now pay N1000 (1%) processing fee. If it's the first transaction you are making for that day, you'll only be charged N45 processing fee.
Users have been reacting negatively online and seem not to be happy about the sudden increase in charges with OPay. Bank excessive charges is the major reason why most individuals prefer to use OPay… but now, users are having a second thought.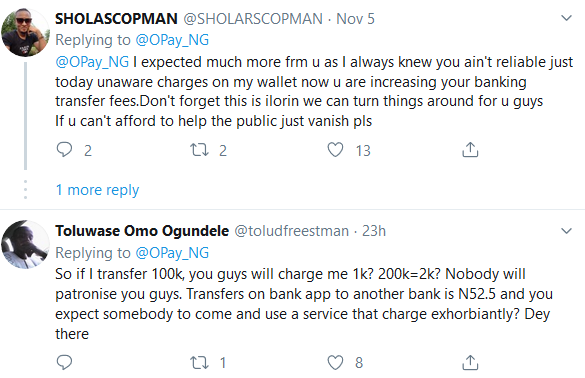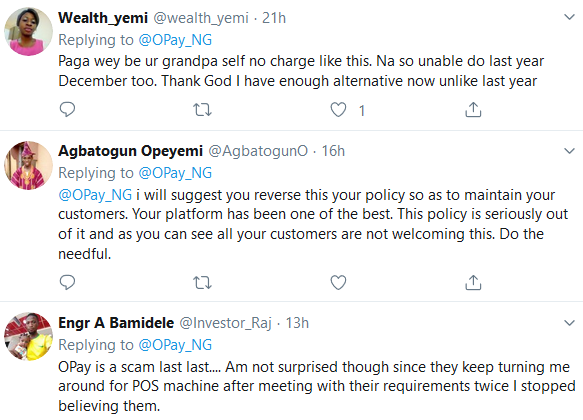 Rubies bank is always here to the rescue, and nothing is going to change that anytime soon. Transfer to any bank in Nigeria regardless of the amount is N21. You also have access to free Debit Verve card, deliverable to any location you are in Nigeria.
You can check how to get a free Rubies Debit Card here and download the app.
OPay users, what do you think?